Vans Realm Backpack in Black – £34.99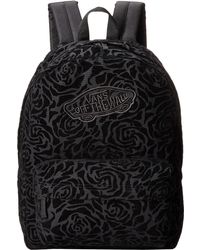 This Vans backpack is nice and simple, no tech features just a simple backpack. Perfect for those spring days when you want take some lunch up the mountain. The rose pattern is really subtle and cool, it's not in your face girly.
Roxy Tribute Snow Backpack – £60
If your looking for something with more tech features and want to be kitted out for the mountain then this would be perfect for you. It has a vertical board or ski carry system for when your hiking or catching the bus home. The shovel and probe compartment is really handy for keeping all your avalanche gear secure and easy to get to. Having a waist belt is good to make sure your bag is extra secure and you do have the option to remove it if you don't like using it. There is a snug fleece lined goggle pocket too. For days when your travelling you can pack your laptop into the padded laptop sleeve which makes life easier on the road.
Roxy Sugar Baby Backpack – £25.00
If you want a cheap yet cheerful backpack then this Sugar Baby backpack is ideal, it comes in loads of different patterns and colours and simply has one main compartment to put your stuff in. There is an extra zip pocket at the front to put stuff in that you want to be able to reach easily. With adjustable padded shoulder straps this will be nice and comfy to wear. Perfect if you want a nice bright girly pattern.
Herschel Little America Mid Volume Backpack £81ish! (shipping from US bumps the price up!)
For those of you that are fashion conscious and don't mind spending a little extra then take a look at the range of Herschel backpacks on blue tomato, there's loads of colours to choose from. It has a fully padded fleece lined pocket for your laptop to go and extra media pocket too. The back padded has a ventilated mesh material to stop your back getting sweaty and the contoured shoulder straps are designed to be super comfortable. The buckles are magnetic too so it's not as fiddly as it looks to open and close. I am a sucker for a floral print but there are also some really nice blue and brown versions if you want a more simple look.
Dakine Jewel Backpack – £54
Dakine make great backpacks that are perfect for snowboarding with. Not only are they comfortable to ride with but they have some really cool features too. The Jewel backpack has an insulated cool pocket to keep your food nice and chilled when the sun is out all day. Mesh side pockets are always great too because you can put your drink bottles in there. No matter how tightly you put your lid back on your bottle you still don't want to risk covering the contents of your bag in juice so it's best to put them in the outside pockets. With a 26L capacity you should have more than enough space to fit all of your essentials in there.
Remember your bag might seem safe when it's at the top of the park in a pile of bags but things do go missing so make sure you don't leave anything valuable in your backpack. If your going to spend the day filming new tricks then take a couple of practice laps and then get straight at it. When you've finished keep your backpack nearby or call it a day and head out of the park. You never know who's watching you and people take advantage of bags being left unattended. I'm talking from experience on this one! These bags would make great Christmas presents too so if your stuck for idea's then this could be the perfect gift. 🙂